Biography of Herb Martinez
In 1959, if you asked most boys what they wanted to be when they grew up, they would probably have given you some pretty standard answers—a doctor, a fireman, a singer like Elvis. If you'd ask the same question of a 12-year-old Herb Martinez, he might not have had time to talk with you. You see, he was already running his own pinstriping and custom paint business.
Livermore, California is the home of Herb Martinez Pinstriping and Signs, a showcase for the owner's many decorative talents—skills he learned like artists of the Renaissance, during a long apprenticeship with some of the best customizers and pinstripers in Northern and Southern California. During his upbringing in Oakland, California, Herb showed an early affinity for art in school, earning the acclaim of teachers and schoolmates for his drawing and painting. But when—at the age of 12—a neighbor showed him how to hold a pinstriping brush, the wheels of destiny were set in motion. Herb discovered he had an innate talent and affection for pinstriping.
Through his teenage years, Martinez put his considerable energy into entrepreneurial pursuits, doing pin striping and custom painting in his parents' garage, beginning his first work at the Oakland Roadster Show in 1961 ("Imagine", he says, "some 14 -year-old coming up to you at a show and asking to pinstripe your car!"), and even making forays into the repair, building, and decoration of surfboards. It was also during this time he took to hanging around the shops of Tommy 'the Greek' and 'St. John' Morton seeking to learn the knowledge and skills of the masters of the craft. After high school, Herb continued to hone his skills by working in body shops as an apprentice painter, and in 1971 began his first "real" business—Color Machine Body and Paint, a custom paint and body shop where his skills were expanded to include custom body work and custom painting on motorcycles and race cars.
Since 1978, Herb has devoted his talents exclusively to pintriping. Thanks to the efforts of major mentor Cary Greenwood, Herb was able to finally retire from auto painting. In 1982, lettering and signs were added to the menu of decorative arts when he enrolled at Los Angeles Trade Technical College for the sign graphics course. Although the course was never finished, the skills he acquired helped round out his expertise. Herb has followed all the latest trends and applied each one to his customers' vehicles. Simple or baroque work on stock, vintage, and exotic modes of transportation is his hallmark.
Herb has also invested time and money into roadwork with Goodguys Rod & Custom Association and NSRA. Touring over the entire nation during the summer from 1988 to 1993, he sharpened his skills even further, and picked up many other styles and methods of pinstriping and graphics along the way. His photo albums bulge with photos of striping from many other artists besides himself, and from many parts of the country.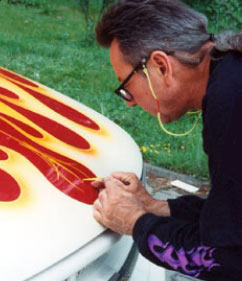 Thanks to the tours, he now has one of the most complete collections of pictures of styles of all types of pinstriping known to exist—a tremendous help to an undecided customer. Sometimes working day and night, Herb's booth area at the shows is always busy. Thanks to a friend and fellow SEMA member, Oliver Schlimmer, Herb found himself working in Germany by 1997. His "Euro-Tours" are still a part of his schedule to this day. He plans on continuing to do shows in the U.S. and Europe until he can't travel anymore.
Martinez' talents extend far beyond decorative custom work. He has written, photographed, and been the model in technical articles for numerous magazines including AutoArt, Autographics, and the new book by Craig Fraser on advanced pinstriping techniques called Pinstriping Masters. He has been interviewed for Street Rodder, Drive, and Autographics, as well as many other smaller publications and articles on his work. His pinstriping has been featured on a multitude of vehicles in every major automotive publication in the America, Europe, Japan, and Australia.
Thanks to an association with custom car builder Eddie Paul, Herb has contributed his talents to vehicles, props, and sets in such movies as the "Best of Times" with Kurt Russel and Robin Williams, the "Ice Pirates", and Rad. Studios like 20th Century Fox, Lions Gate, Universal, and MGM have all been his and Eddie's clients. Eddie and Herb also did the first "How to Pinstripe Basics" video in 1983, and have just recently released an updated version in Digital Video Circle Scan 4D. Since 1990, building project and promotional vehicles as seen at the SEMA Show has also been a specialty. Sponsors like Goodyear, Mooneyes, Colorado Custom, Dupont, PPG, and JTR Publishing have contributed parts and expertise to his cars and trucks.
Herb has traveled the USA and the globe showing off his expertise to a wide variety of people and cultures. From 1988 to 1993 he traveled the American hot rod and custom car outdoor show circuit purveying his talents for Goodguys, NSRA, and numerous smaller promoters and club gatherings. Thanks to a major break in 1997 from a German national named Oliver Schlimmer, Herb crossed the Atlantic and started his pinstriping tour in central Europe, mostly around Germany, Switzerland, and Austria. Thanks to Shige Suganuma and Larry "Speedo" Henley, he showed his talents and products across the Pacific at the Mooneyes Rod & Custom show in Yokahama, Japan in 2001.
In 2002, his "Better Late Than Never Tour" took him back to Germany and Switzerland for the sixth time. This trip established Herb with the crowds at the Essen Motor Show. This is the biggest tuner show in Europe. For ten days he worked the show at the SEMA, Mattig, and Pentastar booths, striping cars and parts in front of hundreds of viewers at a time. This is the first time that he had worked on European vehicles in Germany. Before this he had only worked on American cars and trucks.
2003 proved to be another banner year of accomplishments. The longest, largest European tour yet took place. Euro Tour 2003 had 9 stops in France, Switzerland, and Germany. The tour was completed at the end of the year by his appearance at the Mooneyes Rod & Custom Show in Yokahama, Japan. Herb's new video debuted this year, incorporating both basic and advanced techniques for the first time. Herb's longtime partnership with Eddie Paul has spawned 3 videos on pinstriping so far, and will probably continue with other subjects in the future. Airbrush Art Magazine finally released the first "Pinstriping Masters" book in May, 2003. The book shows 30 different stripers, including Herb Martinez, purveying their craft, and demonstrating many techniques. Thanks to Edie Paul, KP Books offered a contract to do a book on the art and craft of pinstriping. After over a year of writing and taking pictures for the book, the release date was at the end of 2006. Herb has also penned a chapter on the history of pinstriping and had his striping designs included in the book, "Pinstriping Planet."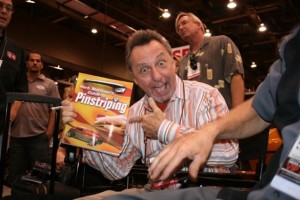 Herb has consulted for House of Kolor, Petzoldts Imports-Germany, Spraylat Corporation (One Shot Sign Enamel), Mack Brush Company, and Fashion Paint.
To support both Pinstripe Planet and Guide to Pinstriping, Herb hit the road again with numerous book signings from California to Japan to Europe. This set of world tours continued for 6 years until 2011. He would spend anywhere from 9 to 10 weeks in Europe each year and trained well over 300 students in the art of pinstriping in 6 different countries. Hot rod and American car shows have also been a staple and Herb striped at 3 European Street Rod Nationals in a row—The German Street Rod Nationals, The English NSRA Supernationals, US Car Show Dornbirn, and many Street Magazine Nationals in Germany. In 2011 Herb was featured as the celebrity artist of Tuning World Bodensee.
In 2010 Pinstripe Planet II made its debut and once again Herb went out in support of the book. With supplies running low in the Krause warehouse, Herb plans on republishing his book in an updated form.
Herb is also writing for AutoArt Magazine, Pinstriping & Custom Graphics, Krause Publishing, and Korero Books.
Herb Martinez is a member of the National Rod & Custom Hall of Fame , Grand National Roadster Show Hall of Fame, Mack Brush Hall of Fame, San Francisco Rod & Custom Show Hall of Fame and the Von Hot Rod Pinstripers Hall of Fame.